04 Jan

With Below Average Cost, Increasing Enrollment, CDHPs Have Big Impact

According to the UBA Health Plan Survey, enrollment in CDHPs continues to grow in most regions. Receive information like this but customized to your business by taking our Benchmark Survey.
---
When most experts think of group healthcare plans, Preferred Provider Organization (PPO) plans largely come to mind—though higher cost, they dominate the market in terms of plan distribution and employee enrollment. But Consumer-Directed Health Plans (CDHPs) have made surprising gains. Despite slight cost increases, CDHP costs are still below average and prevalence and enrollment in these plans continues to grow in most regions—a main reason why it was one of the top 7 survey trends recently announced.
In 2017, 28.6% of all plans are CDHPs. Regionally, CDHPs account for the following percentage of plans offered: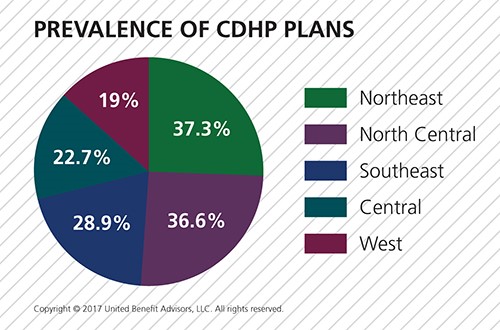 CDHPs have increased in prevalence in all regions except the West. The North Central U.S. saw the greatest increase (13.2%) in the number of CDHPs offered. Looking at size and industry variables, several groups are flocking to CDHPs:

When it comes to enrollment, 31.5% of employees enroll in CDHP plans overall, an increase of 19.3% from 2016, after last year's stunning increase of 21.7% from 2015. CDHPs see the most enrollment in the North Central U.S. at 46.3%, an increase of 40.7% over 2016. For yet another year in the Northeast, CDHP prevalence and enrollment are nearly equal; CDHP prevalence doesn't always directly correlate to the number of employees who choose to enroll in them. Though the West held steady in the number of CDHPs offered, there was a 2.6% decrease in the number of employees enrolled. The 12.6% increase in CDHP prevalence in the North Central U.S. garnered a large 40.7% increase in enrollment. CDHP interest among employers isn't surprising given these plans are less costly than the average plan. But like all cost benchmarks, plan design plays a major part in understanding value. The UBA survey finds the average CDHP benefits are as follows:

Read the original article.
Source:
Olson B. (7 December 2017). "With Below Average Cost, Increasing Enrollment, CDHPs Have Big Impact" [Web blog post]. Retrieved from address https://blog.ubabenefits.com/with-below-average-cost-increasing-enrollment-cdhps-have-big-impact
SaveSave